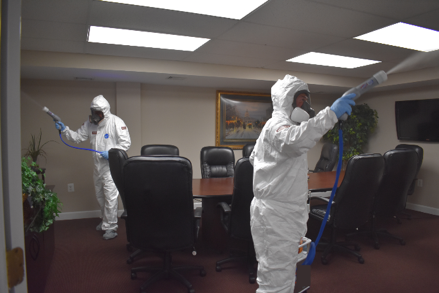 As a leading commercial cleaning company in the Metro DC area, Mister Kleen is working with clients preparing to reopen their facilities as the region eases lockdown restrictions. Many are requesting a "deep cleaning" to assure employees and customers that disinfection services have been performed in the building. We'd like to share our expertise to help you become more informed about this essential service being conducted in facilities around the region.
Who Issues COVID-19 Cleaning Guidance
The Centers for Disease Control and Prevention (CDC) provides recommendations on the cleaning and disinfection of areas occupied by people with suspected or confirmed COVID-19. Mister Kleen follows those recommendations, which call for EPA-registered disinfectants to kill germs on surfaces and reduce the risk of spreading infection.
What Is a Deep Clean
While cleaning is a necessary first step so that sanitizing and disinfecting can work properly, it does not kill bacteria or viruses. Our Enhanced Kleen program provides specialized services including comprehensive Electrostatic Disinfecting by our trained and experienced Specialty Services Team. The team also conducts enhanced, high-touch point disinfectant cleaning throughout common areas, as well as on carpets and upholstery.
When To Perform a Deep Clean
In facilities that have been open and do not house people overnight, the CDC recommends waiting 24 hours before cleaning and disinfecting areas where a person with suspected or confirmed COVID-19 worked in or visited.
For other facilities that are preparing to reopen, a deep cleaning can help assure employees who may be anxious about returning to a safe and healthy workplace. After opening, regular deep cleanings can be incorporated into an ongoing cleaning and disinfecting program, which could include enhanced services in high touch and high traffic areas.
Where a Deep Clean Should Take Place
Our enhanced cleaning and disinfection with EPA-registered disinfectants can be administered by hand on all high-touch surfaces. In addition,  our state-of the art Electrostatic Sprayer system Covers hard-to-reach areas that conventional trigger sprays may miss, including the sides, undersides, and backsides of surfaces.
Why Use Mister Kleen for Your Deep Clean
Whether you need a one-time deep clean, or ongoing cleaning services that incorporate regular deep cleanings, Mister Kleen has the experience and expertise to help maintain a healthy work environment in your facility. Our senior leadership recently obtained certification in the Global Biorisk Advisory Council's new Online Fundamentals Training Course. The GBAC program teaches infection and contamination control measures for infectious disease outbreak situations with an emphasis on SARS-CoV-2/COVID-19. Our Specialty Teams as well have been professionally trained to address this newest viral outbreak, including the proper protocols in using PPE and EPA-registered products.
In addition, as a specialist in the High Security sector, Mister Kleen can provide cleared personnel to perform a deep clean of any high security facility in the Metro DC area. Get more information or a custom quote for a deep clean of your facility by  clicking here to email us, calling us at (703) 719-6900, or filling out our online form.