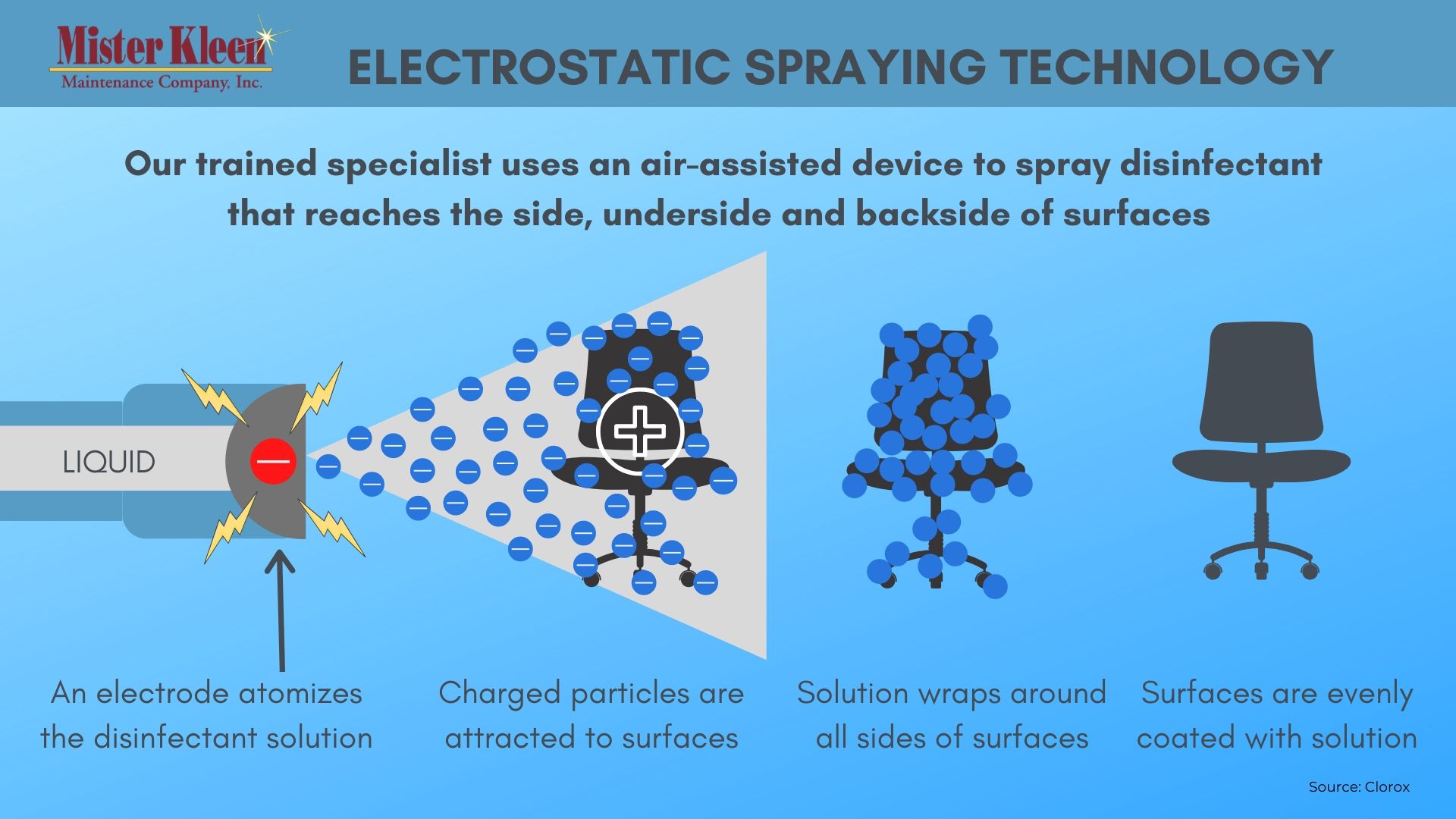 Electrostatic Spraying has become one of our most popular services in our multi-faceted approach to treat facilities with suspected or confirmed COVID-19 cases. As businesses in the DC Metro area prepare to reopen, Electrostatic Spraying is being incorporated into routine contract cleaning programs as well as deep cleaning for medium and high risk cases.
With the Electrostatic Spraying service, we work with clients to establish a controlled access work area,  where our specially trained crew use proper PPE and follow specific protocols to clean and disinfect the space. This Specialty Team uses a state-of-the-art electrostatic system that applies EPA-registered chemicals identified for use on SARS-CoV-2, the coronavirus that causes COVID-19.  The system applies chemicals in a more efficient, controlled manner than traditional hand spraying methods on hard, nonporous surfaces and objects.
HISTORY OF THE TECHNOLOGY
Today's Electrostatic Spraying has its roots in the painting technology patented by Harold Ransburg in the 1940s. His Indianapolis-based Ransburg Electrostatic Equipment created highly efficient sprayers that quickly became popular with automobile and other manufacturers. The technology expanded to other applications over the decades, including agriculture in the 1980s, and more recently, the cleaning industry.
HOW IT WORKS
As the liquid disinfectant solution exits the electrostatic sprayer, it's given a positive electrical charge. The droplets then become attracted to all negative surfaces, covering the visible area, underside, and backside of surfaces with the disinfectant. Surfaces that are already covered will repel the spray, making the method extremely efficient.
WHAT ARE THE BENEFITS
Superior Application: Electrostatic Spraying covers hard-to-reach areas that conventional trigger sprays may miss. There is also less opportunity for overwetting to occur.
Cost Effective: Electrostatic Spraying reduces the amount of time and product it takes to disinfect large areas of a facility, as well as the number of personnel needed for the job.
Better Infection Control: Electrostatic Spraying eliminates the need for disinfecting crews to physically touch potentially infected surfaces, and reduces the possibility of cross-contamination.
Mister Kleen, a leading provider of contract cleaning services to Commercial and High Security facilities since 1976, can provide you with a custom quote for our Electrostatic Spraying services as part of our Enhanced Kleen program. Contact one of our specialists by clicking here to email us or calling us at (703) 719-6900.