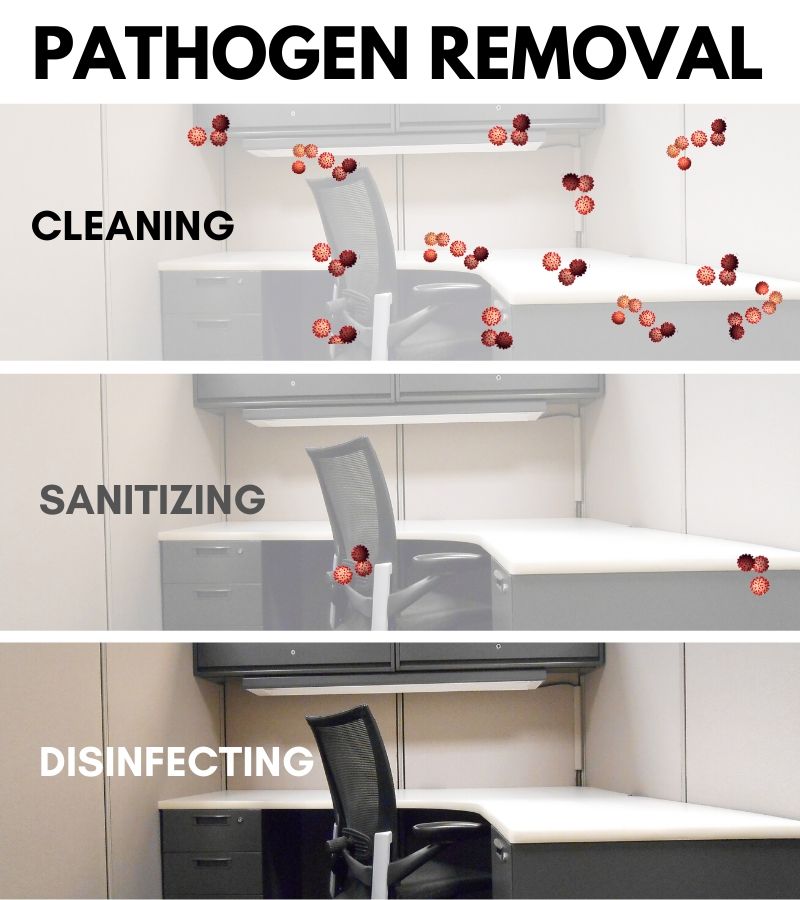 In a world transformed by SARS-CoV-2, the virus that causes COVID-19, it's more important than ever to know the difference between cleaning, sanitizing, and disinfecting. Our professional crews are trained in the distinctions among the three processes as well as the proper protocols to limit the spread of infection and keep facility occupants safe.
Based on what is currently known about COVID-19, transmission of the virus occurs most frequently through respiratory droplets when people cough or sneeze within close contact of others, about 6 feet. Current research indicates the virus can remain on surfaces for hours to days, and the Centers for Disease Control and Prevention (CDC) recommends cleaning and disinfecting to limit the spread of infection in the workplace.
CLEANING
Cleaning is a necessary first step before sanitizing or disinfecting. Dirt, dust, or debris can make some sanitizers and disinfectants less effective by presenting a barrier on a surface, so we begin by using a cleaning product to wipe or scrub down objects. Cleaning does not kill bacteria  or viruses, but will reduce their numbers on surfaces and objects, thereby reducing the risk of exposure. We follow all federal safety guidelines at all job sites, including having our employees wear appropriate personal protection equipment (PPE) such as face masks and disposable gloves when cleaning.
SANITIZING
Once appropriate cleaning has been completed, EPA-registered sanitizers can be used to further reduce the number of bacteria and viruses present in the workspace. Under EPA regulations, a sanitizer must  kill 99.9% of bacteria within a period of time. To be effective, sanitizers need to be mixed in proper concentrations and must be left on a surface for a time specified on the product label – this is called "dwell time" in the industry. Sanitizers, which are often used in food settings, reduce bacteria  to a level considered safe by public health standards. They do not, however kill viruses, and so in facilities with severe viral outbreaks, including COVID-19,  disinfection is required.
DISINFECTING
Using products identified by the EPA against viruses such as SARS-CoV-2 is the recommended means for removing pathogens to the greatest extent possible. Our specialty teams use these disinfectants on hard, nonporous surfaces as well as soft, porous surfaces such as carpets and rugs, drapes, and upholstered furniture. An EPA-registered disinfectant kills virtually all (99.999%) viruses, bacteria and fungi listed on its labels. The difference between sanitizers and disinfectants may appear minuscule, but surfaces contain millions of germs and the greater the reduction of particles, the less risk of infection.
Disinfectant chemicals are highly toxic, and our specialty disinfectant crews receive extensive training in their use. This includes using EPA-registered products that target a particular virus and leaving it on surfaces for the appropriate dwell time. For greater efficiency in large areas, our crews utilize state-of-the-art Electrostatic Disinfection Spraying, where special machines spray electrically charged particles that allow the disinfectant to evenly coat the sides, backsides, and undersides of a surface. In all disinfection settings, our employees are outfitted and trained in the proper use of appropriate PPE for the job. In facilities with severe viral outbreaks, including COVID-19, proper PPE includes full-body protective suits, respiratory protection, gloves and more.
As with sanitizers, disinfectants do not kill germs continuously or after recontamination, and require constant reapplication. As facilities reopen and more employees return to work, more frequent cleaning and disinfection may be needed in high touch and high traffic areas. For more information, consult our web page Prepare Your Facility For Reopening or contact us by email or by phone at (703) 719-6900.