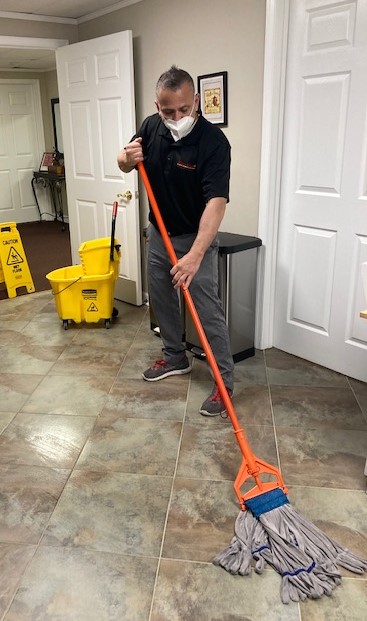 In the age of COVID-19, maintaining a healthy work environment is more important than ever. As more employees return to work, they want assurance that facilities are clean from top to bottom in all areas – including bathrooms. With many commercial restrooms using ceramic or porcelain tiles, keeping them in pristine shape is a job for professionals.
Here are some things to consider when hiring a professional cleaning company to maintain your ceramic or porcelain tile floors:
Customized Cleaning
To avoid damage, we determine what kind of ceramic or porcelain tiles are used on the floor before cleaning. Are the ceramic tiles glazed or unglazed? Is the porcelain polished, unpolished or textured? We use the appropriate cleaning methods and agents for your particular floor material.
We also focus cleaning on grout lines, which can harbor dirt and germs. Our trained technicians will:
Clean and extract dirt and grime
Restore your grout and tile color
Remove odor and bacteria from your grout lines
Seal your tile and grout
Whether your facility has been open during the pandemic or is being prepared for reopening, we can create a customized cleaning and disinfection program to include flooring. Our Enhanced Kleen program incorporates EPA-registered disinfectants for use against SARS-CoV-2, the virus that causes COVID-19.
Cleaning & Disinfection Frequency
Traditional timelines and guidelines on floor maintenance may be altered to accommodate more frequent services in light of the pandemic. Mister Kleen works with our clients to customize a floor maintenance program based on their needs and budget. This program can include Enhanced Kleen disinfection services in the event of a suspected or confirmed case of COVID-19 in your facility.
Rely on the Experts
Mister Kleen is certified by the Institute of Inspection Cleaning and Restoration Certification, which signifies that our employees are skilled professionals. The IICRC certification cannot be purchased – it is earned through study, experience and successful completion of formal, written examinations, and maintained by completing continuing education credits.
In addition, senior leadership recently obtained certification in the Global Biorisk Advisory Council's new Online Fundamentals Training Course. The GBAC program teaches infection and contamination control measures for infectious disease outbreak situations with an emphasis on SARS-CoV-2/COVID-19. Our Specialty Teams also have been trained to address this newest viral outbreak. This training has included sessions on biohazards and bloodborne pathogens, EPA-registered disinfectant protocol, and the proper use of PPE.
Our expertise also lies in the High Security sector. We can provide cleared cleaning personnel at your High Security facility to clean your ceramic or porcelain floors, as well as provide other specialty services. You can get more information or a custom quote by  clicking here to email us, calling us at (703) 719-6900, or filling out our online form.