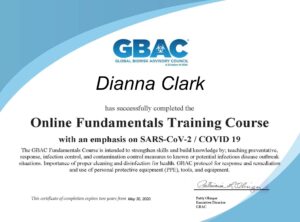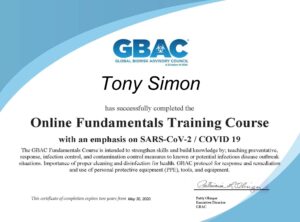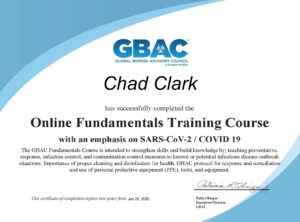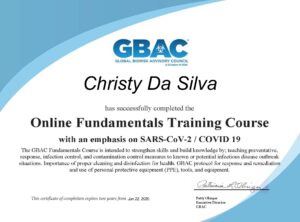 Mister Kleen is committed to continuous regular training of employees to better serve our partners – which we recognize sets us apart. Most recently, four senior executives became Microbial Warriors after completing the Global Biorisk Advisory Council (GBAC)'s Online Fundamentals Training Course and passing the test to receive their certificate of completion. The program teaches cleaning professionals infection and contamination control measures for infectious disease outbreak situations such as SARS-CoV-2, the virus that causes COVID-19.
The senior leaders who are certified through the year 2022 are: COO Tony Simon; Vice President of Operations Dianna L. Clark, RBSM; Director of Sales and Marketing Chad Clark, RBSM; and Director of Field Services Christy DaSilva, RBSM. "The deep focus on best practices that we learned will be shared with our staff. This will ensure our crews are trained in the latest safety protocols as they respond to biohazards in the workplace," Simon said.
Earlier this year, Mister Kleen cleaning professionals participated in other training focused on COVID-19 safety. The courses covered Biohazards and Bloodborne Pathogens, EPA-registered Disinfectant Protocol, and Proper Use of Personal Protection Equipment (PPE). With this latest certification, Mister Kleen brings increased value to clients seeking a multifaceted approach to enhanced cleaning and disinfection.
Mister Kleen, a leading provider of contract cleaning services to Commercial and High Security facilities since 1976, can provide you with a one-time service or create a custom  Disinfection Services package as part of our Enhanced Kleen program. Contact one of our specialists by clicking here to email us, calling us at (703) 719-6900, or filling out our online form.