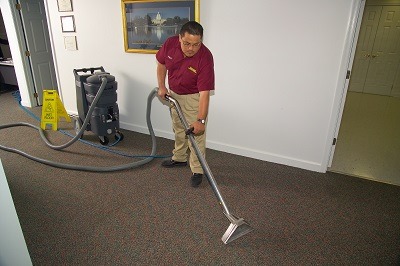 As a leading commercial cleaning company in the DC Metro area, Mister Kleen excels in carpet cleaning.
As facilities welcome more occupants returning to work, cleaning regimens have become a high priority in assuring employees that their offices are safe and clean. Carpet cleanings have been included in that regimen, and Mister Kleen offers a spectrum of services to match your needs.
We can perform a restorative cleaning to extract dirt and debris trapped in the fibers, using the best method that's appropriate for your carpet and what lies underneath it. Some of our wet and dry carpet cleaning processes include:
Hot water extraction, which is highly effective for carpets that haven't been cleaned in a while.
Rotary and extraction, another excellent choice to restore heavily soiled carpets.
Low moisture encapsulation, appropriate if there are carpet tiles or sensitive wiring beneath the carpet.
Very low moisture, which can be performed during business hours as the carpets dry more quickly.
Cylindrical cleaning, which is a less aggressive process that can be used on short-piled carpets.
In addition to restorative cleanings, we can use some of these methods to provide ongoing services to maintain your carpet's appearance.
We are certified by the Institute of Inspection, Cleaning and Restoration Certification (IICRC), and our specialists can walk you through which process would best fit your needs. As an IICRC-certified provider, you can be assured that our employees are professionally trained to avoid common carpet-cleaning mistakes.
If you're shopping around, here are some quick tips on how to select the right carpet cleaning company:
Check if the company is certified by the Institution of Inspection Cleaning and Restoration Certification (IICRC), which oversees the carpet cleaning industry.
Find out how long the company has been in business, and what they specialize in. A residential cleaning company may not have the correct equipment needed to efficiently clean a large number of carpets in a commercial facility.
Evaluate whether your quote includes a recommendation of the appropriate process to use on your particular type of office carpets and what lies beneath them.
Finally, is your office is located in a high security facility in the DC Metro region? As a specialist in the high security sector, we can provide cleared personnel to clean your carpets for a one-time restoration or on an ongoing maintenance contract. Contact one of our specialists by clicking here to email us, calling us at (703) 719-6900, or filling out our online form.