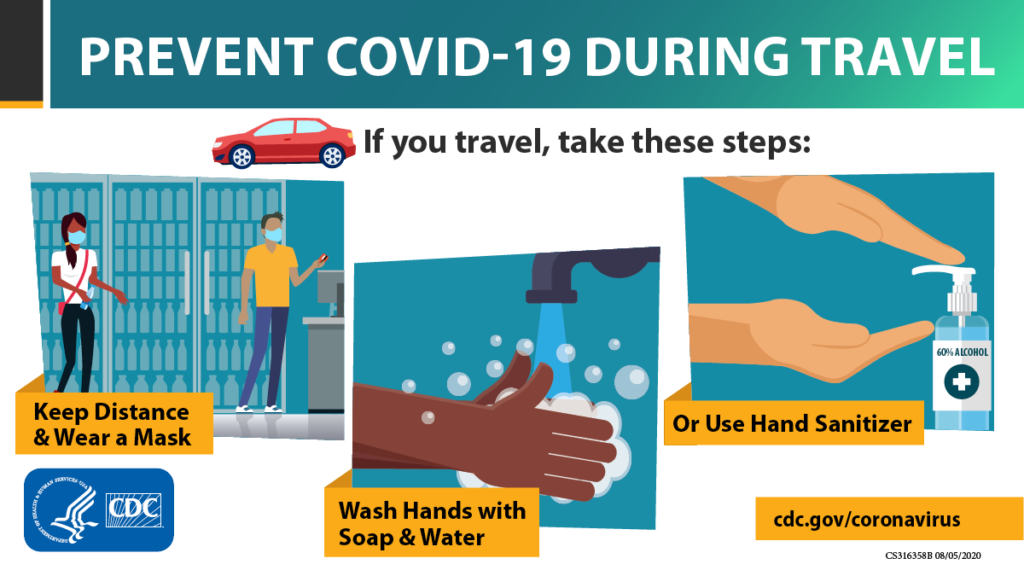 Are you or someone you know flying into the United States from another country? Starting Jan. 26, international travelers will have to prove they tested negative for COVID-19 or recovered from the infection. The CDC imposed the new travel restriction to help reduce the spread of the new COVID-19 variant from the United Kingdom. If you've been exposed to COVID-19, the CDC recommends you delay traveling and quarantine until you have recovered from the infection. For more details, click here to visit the CDC page on Testing and International Travel.
DOMESTIC TRAVEL
As cases continue to rise in the DC Metro region and the rest of the country, the CDC recommends postponing all travel as the best way to avoid infection. Before making your plans, the CDC suggestions asking yourself questions such as:
Are you, someone in your household or someone you will be visiting at increased risk for becoming severely ill if they get COVID-19?
Are cases surging where you live or at your destination?
Are hospitals where you live or at your destination overwhelmed with COVID-19 patients?
Are there travel restrictions at your destination or when you return home? Check each state's requirements for entry prior to traveling.
While traveling, will it be difficult to stay 6 feet apart from other passengers in the bus, train or plane?
If you answer yes to any of these, the CDC suggests postponing your travel plans.
HOW TO STAY SAFE IF TRAVELING
If you decide to go ahead with your plans, here are some tips to help protect yourself and others from infection:
Get a flu shot if you haven't already.
Bring extra supplies of masks and hand sanitizer.
Wear a mask and keep your nose and mouth covered whenever you're in a public setting.
Stay at least 6 feet from anyone you're not traveling with.
Wash your hands or use hand sanitizer with at least 60 percent alcohol often.
Avoid touching your eyes, nose, and mouth.
Get tested, even for domestic travel. If you find out you're positive for COVID-19, immediately isolate yourself and delay your travel you have recovered.
The CDC offers more resources and information about how to limit your risk of getting and spreading COVID-19 while traveling within the United States. Click here to visit their page on Domestic Travel During the COVID-19 Pandemic.
Mister Kleen is a leading provider of contract cleaning services to Commercial and High Security facilities since 1976. Our primary service area is the DC Metro region. We also provide a variety of interior and exterior specialty services, including Disinfection services.