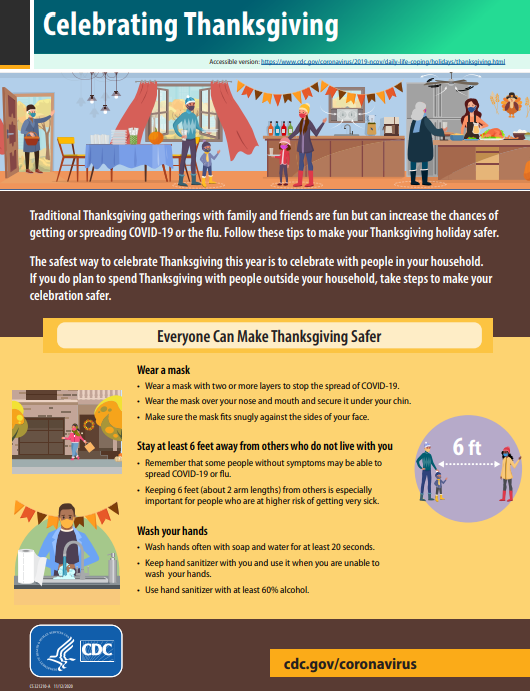 As families around the country prepare to celebrate Thanksgiving, we'd like to share some tips on how you can minimize your exposure to COVID-19 or the flu. The CDC late last week recommended that families stay home and provided a list of questions to ask yourself before deciding to travel for the holiday. Instead of the usual gathering, you could have a virtual Thanksgiving meal with family around the world. To encourage these virtual celebrations, the video conferencing platform Zoom is lifting its 40-minute time limit on free meetings on Nov. 26.
Please see other tips below from the Centers of Disease Control and Prevention (CDC) that can help you and your family remain safe through the holiday.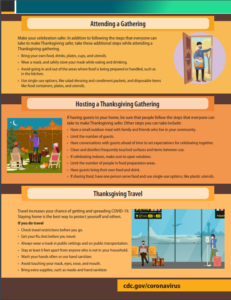 GATHERINGS AT HOME
Stay home if you're sick. Remind guests that they should stay home if they have been exposed to COVID-19 in the last 14 days or are showing COVID-19 symptoms. Any guest living with someone who is at higher risk should consider the potential risk to their loved ones.
Encourage social distancing. For table arrangements, people from the same household can be in groups together and don't need to be 6 feet apart – just 6 feet away from other families. When guests arrive, refrain from hugging or kissing or other contact – instead, wave or verbally greet each other.
Wear masks. Have your masks on when less than 6 feet apart from people or when indoors. Consider providing masks for guests in case they forget to bring one.
Clean hands often. Have sufficient supplies of soap in the bathroom and provide disposable paper towels for drying hands. Consider placing hand sanitizer throughout your home and wipes in the bathroom to encourage guests to clean high touch surfaces like the door knob and light switch when they are done.
Limit the number of people serving or handling food. Have one person serving dishes and sharable items, like salad dressings and condiments, so that multiple people are not handling the items.
TRAVEL TIPS
If you do leave your home to celebrate with family in another state, the CDC has extensive information and resources on traveling during the pandemic. Besides wearing a mask, washing hands and social distancing, here are some top travel tips:
Check travel restrictions before you go. Other states and jurisdictions have increased restrictions out of concern the virus will spread due to family traveling for the holidays. Click on the links for information from Virginia, Maryland and Washington DC.
Get your flu shot before you travel. Clinics and retailers are providing flue vaccines for adults and children – go to vaccinefinder.org to find the one nearest you.
Bring extra supplies, such as masks and hand sanitizer.
We hope these tips help you and your family safe this Thanksgiving – we wish you all a wonderful holiday.
Mister Kleen is a leading provider of contract cleaning services to Commercial and High Security facilities since 1976. Our primary service area is the DC Metro region. We also provide a variety of interior and exterior specialty services, including Disinfection services.