Enjoy Some Fun In The Sun With A Good Exterior Window Cleaning This Summer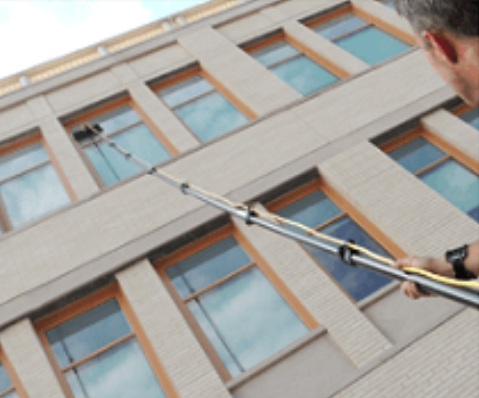 The unofficial start to summer is here in the Washington DC metro region. Enjoying the outdoors is a lot of fun this time of year, but let's face it – there will be days in which you need to be in the office. And while you may not be able to enjoy as much fun in the sun on these days, the next best thing is to ensure your windows are clean and spotless to look through.
With a good window cleaning your office will bring in more natural light to shine into your facility which can help improve employee morale, productivity, and lower your energy costs. A good window cleaning can also improve your curb appeal for your office staff, tenants, and visitors.
Get Rid of Dirty Windows
Over time the exterior of your windows accumulates dirt, debris, dust, bird droppings, spider webs, and more. These items can be removed with a thorough exterior cleaning of your windows.
What's also important to note is that if your facility is built with concrete, you run the risk that several of the minerals used to manufacture the concrete, such as calcium, leak out. This is one of the causes of those ugly streak marks on your windows. And the longer these stains remain, the harder it becomes to clean and remove them.
Recommended Exterior Window Cleaning Processes
There are companies that specialize in exterior window cleaning, and many of these companies will have employees hanging on ropes from roof anchors dressed in costumes – like Spiderman outfits. This can be a distraction and the process itself may not be needed.
If your facility is four stories or less and is not facing a major road with a lot of traffic then you can go with a different option. State-of-the-art extension poles using an environmentally friendly, pure water cleaning system may be the way to go. This process can provide a clean, streak free surface to clean your windows from the ground up, and is much better for the environment by eliminating the use of chemicals.
As the saying goes, "perception is reality." This is especially true for your windows. While you may be getting a bunch of work done to clean your parking garages and lots this summer, scheduling to have your windows cleaned is something to also consider. Why not enjoy some fun in the sun while you can by looking out of clean windows this summer?
Mister Kleen is a leading provider of contract cleaning services to Commercial and High Security facilities since 1976. Our primary service area is the DC Metro region. We also provide a variety of interior and exterior specialty services.